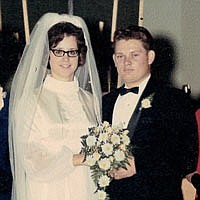 Johnsrud's Celebrate 50th Wedding Anniversary
Stories this photo appears in:

Jeff and Ann Johnsrud were married November 14, 1970 at St. Patrick's Catholic Church in Hollandale. They have 3 sons, Scot (Angie), Steve, and Shawn (Pam). They also have four grandchildren, Brianne, Lance, Bryce, and Brooklynn. A small family celebration will be held.