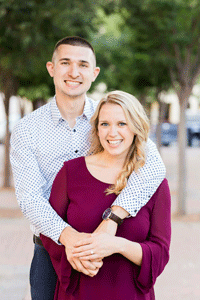 Levetzow - Bechen Engagement
Stories this photo appears in:

Marvin & Sue Levetzow, together with Julie & Mark Bechen wish to announce the engagement and forthcoming marriage of their children, Cara Levetzow & Jake Bechen. Cara, a 2011 graduate of Dodgeville High School & 2015 graduate of UW Madison, is employed as a Human Resources Generalist at Georgia-Pacific in Muskogee, OK. Jake, a 2012 graduate of Dodgeville High School & 2016 graduated of Edgewood College in Madison, received his Masters at Tulsa University in 2017, and is employed as an Auditor at Grant Thornton in Tulsa, OK. The happy couple resides in Tulsa, OK and will be wedded in an April 21st ceremony in Dodgeville.